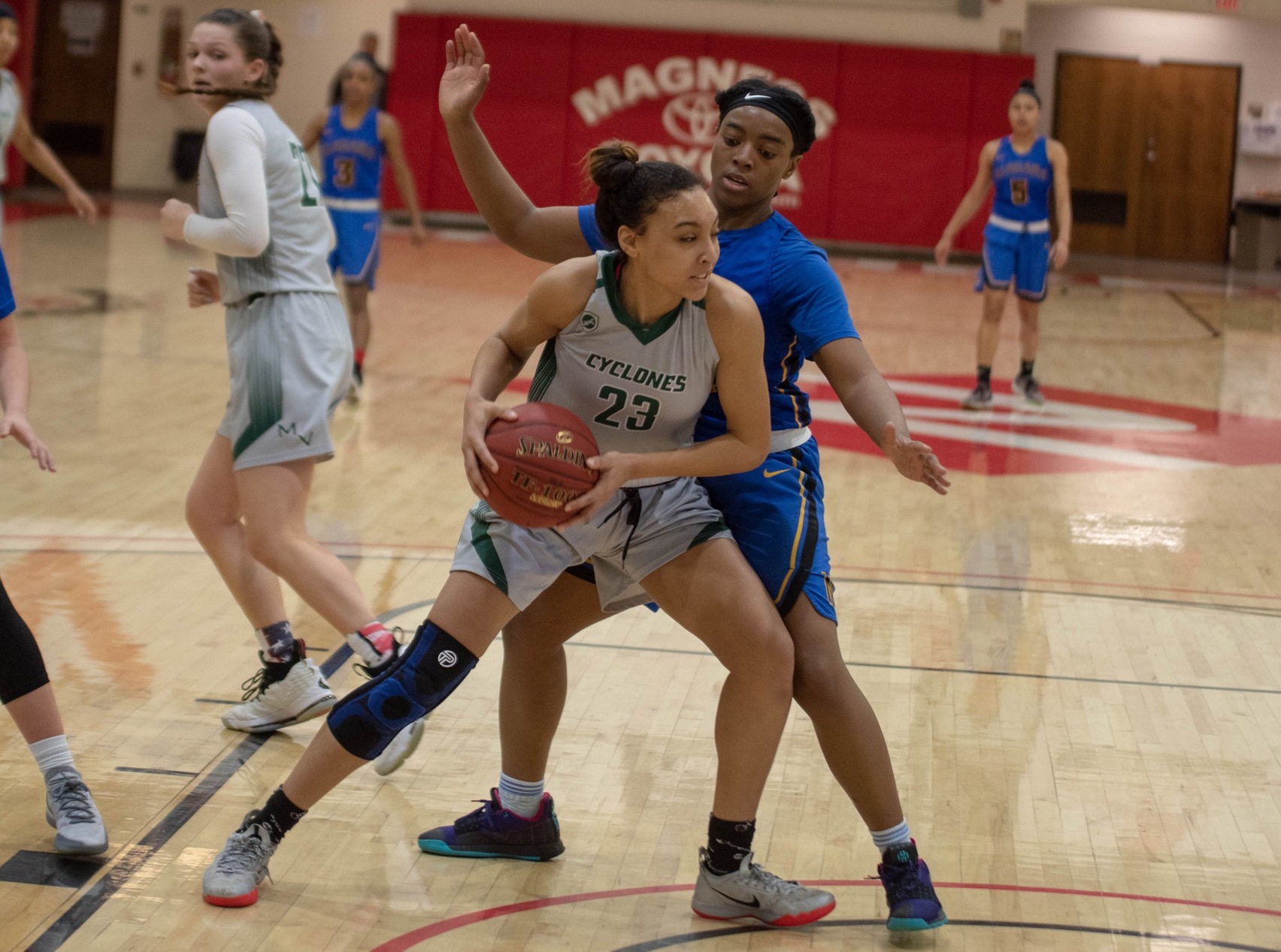 The Cyclones looked more like their old selves in their first round of consolation play today. They took a solid 74-59 victory from Niagara County Community College from New York.
Coming off a painful loss the prior day, the Cyclones needed a win in this round to continue competing. They faced the Thunderwolves, who were 31-0 coming into the tournament and had lost their first game of the year yesterday. Both teams had nothing to lose, but only one was going home.
In the first game, the Cyclones struggled with missed free throws and fouls. Today, they had a number of turnovers, stolen balls and missed shots. However, that didn't stop them from carrying a lead every quarter.
Ashley Hunter and Hennessey Handy got the scoring going with a few threes to see their team up 20-10 after the first quarter. Some interesting technical fouls allowed Hunter to tally a few free throws as well. However, missed shots and turnovers continued to hurt in the second quarter as the Cyclones only led 25-21 at the half.
A fiery halftime pep talk yielded a smoother Cyclone team return to the court that put on the press and controlled the glass. Overall Moraine Valley outrebounded the Thunderwolves 63 to 37. That was in part to Julia Ruzevich who finished with 14 rebounds and Hunter who led with 16 rebounds as well as 19 points.
"We still had a little bit of nerves, but we were way better today and settled in quicker. We were able to play more like we normally do. We had more intensity throughout this game, the defense was better, and we were aggressive on rebounds. I can't believe I led in rebounds," Hunter said. "We haven't lost two games in a row this season and neither did Niagara. I wanted us to give them two losses."
Slowly in the final two quarters, the Cyclones were able to stretch the lead, going 63-45 after the third and ultimately winning by 15 points thanks to several players. Julia Ruzevich was a force under the basket and also added 12 points, five assists and three steals. Kate Ruzevich added nine rebounds, six points and five assists while four Cyclones each banked eight points: Hennessey Handy, Destiny Thames, Gabbie Brent and Erin Greenfield.
"Niagara is a good team. Having that first game [yesterday] helped a lot. We had to do a lot of soul searching, the coaches and players, this game. We did soul searching at halftime, talked about character, giving 100 percent, staying in the moment and focusing on the now. They responded. I'm proud they stepped up," said Head Coach Delwyn Jones. "Defensively we played with more intensity. We showed signs of what we could've done if we won yesterday. I don't think people saw the real Moraine Valley yesterday."
The Cyclones face region rival South Suburban College tomorrow, at 1 p.m. Moraine Valley won 72-55 the last time they met last month, and the rivalry will heat up between the two Illinois teams.
"It's definitely not going to be easy because they thought they should've won in the last game we played them. They'll come out aggressive. If we play OUR basketball, we'll definitely win tomorrow. We just need to be more efficient and find the open man more," Hunter said.
"We're coming full circle. They have some motivation, and we have to prove we deserved that win last time. We have to play our game," Jones said.