For the third annual Moraine Valley Athletics Hall of Fame ceremony, the college saw a dedicated baseball coach, two sibling soccer studs, a former professional football defensive end, passionate basketball player and record-breaking runner all inducted on Tuesday, Feb. 11.
Al Budding dedicated 18 years (1987-2005) of his life to coaching Moraine Valley's baseball team. An amazing baseball player himself and local boy, Budding built the program after several years coaching high school and college. While at Moraine Valley, Budding worked 10-hour days improving the field, practicing in the offseason, scouting local high school games and recruiting talented local athletes. He left his mark on the baseball facilities and the many players who crossed his path. Budding envisioned turning the diamond from a field to a stadium, making changes that still exist. He created the berms behind the outfield fences, planted evergreen trees there and enhanced additional fencing around the diamond. He worked on the field's dirt and grass to make it more playable despite drainage issues and even raised money with his team to buy a field tarp. Budding also cared about the success of his athletes. Several players went further in baseball, most notably pitcher Bobby Madritsch, who was here in 1997 and 1998. Budding made sure Madritsch completed his education after Moraine Valley and worked tirelessly to make sure someone in the pros saw this player throw. Madritsch was drafted and played a few years in the MLB. One of his former players, Hugh Dennehy, is the current head baseball coach at Moraine Valley. Budding always instilled three rules his players still recall fondly: 1. Treat people right 2. Don't lie to anyone 3. Always do what's right (and if you do this last one, you don't need the first two). For a few years during his tenure and after he left, Budding coached internationally, including with the Junior Pan Am and in Germany for five years. He and a Moraine Valley player represented the United States on U.S.A. Athletes, a college all-star team, that competed in Prague, Czech Republic, in 2003 for a tournament during Prague Baseball Week. He still does some international coaching.
Alex Duncan was a forward striker for the soccer team in the 2004 and 2005 seasons. During his freshman year, he was named to the NJCAA All-Region second team and All-Illinois Skyway Collegiate Conference team. But he excelled his sophomore year. Duncan helped the 2005 team go 7-0 in conference for the championship, not done since 1996. For his performance, he earned All-Region first team, All-Conference, Skyway Conference All-Academic, the NJCAA Region IV's best forward, and earned team, conference and region MVP. Most notably is his NJCAA Division I All-American honorable mention, the first and only player from the Moraine Valley men's soccer program to receive this recognition. Duncan also was on the first team from Moraine Valley, and first U.S. college or university, to compete in the 2005 World Interuniversity Championships in Rotterdam, Netherlands. Duncan continued his successful soccer career at Saint Xavier University. He is the first men's soccer player inducted into the Hall.
Erin Duncan spent only one season competing on the women's soccer team, but left her mark on the program. She played one year of Division I soccer at Loyola University before feeling burned out and transferring to Moraine Valley in fall 2003. Coming from a soccer family, where she kicked the ball around with her older and younger brother, Duncan loved the sport. The burnout, however, nearly kept her from attending tryouts at Moraine Valley, which she decided to do the day before. She had to be convinced, and we're glad she was. The center midfielder went on to help her team go 16-5 overall and win the program's first NJCAA Region IV championship. In the process, she ended the season with 49 points, 37 assists and six goals, and earned All-Illinois Skyway Collegiate Conference, Skyway MVP of the Year, All-NJCAA Region IV, Division I Region IV MVP, Skyway Conference All-Academic Team, Moraine Valley team MVP and NJCAA Division I All-American third team. After leaving Moraine Valley, she coached various teams from club and middle school through college to continue instilling that love of soccer. She is the first women's soccer player inducted into the Hall.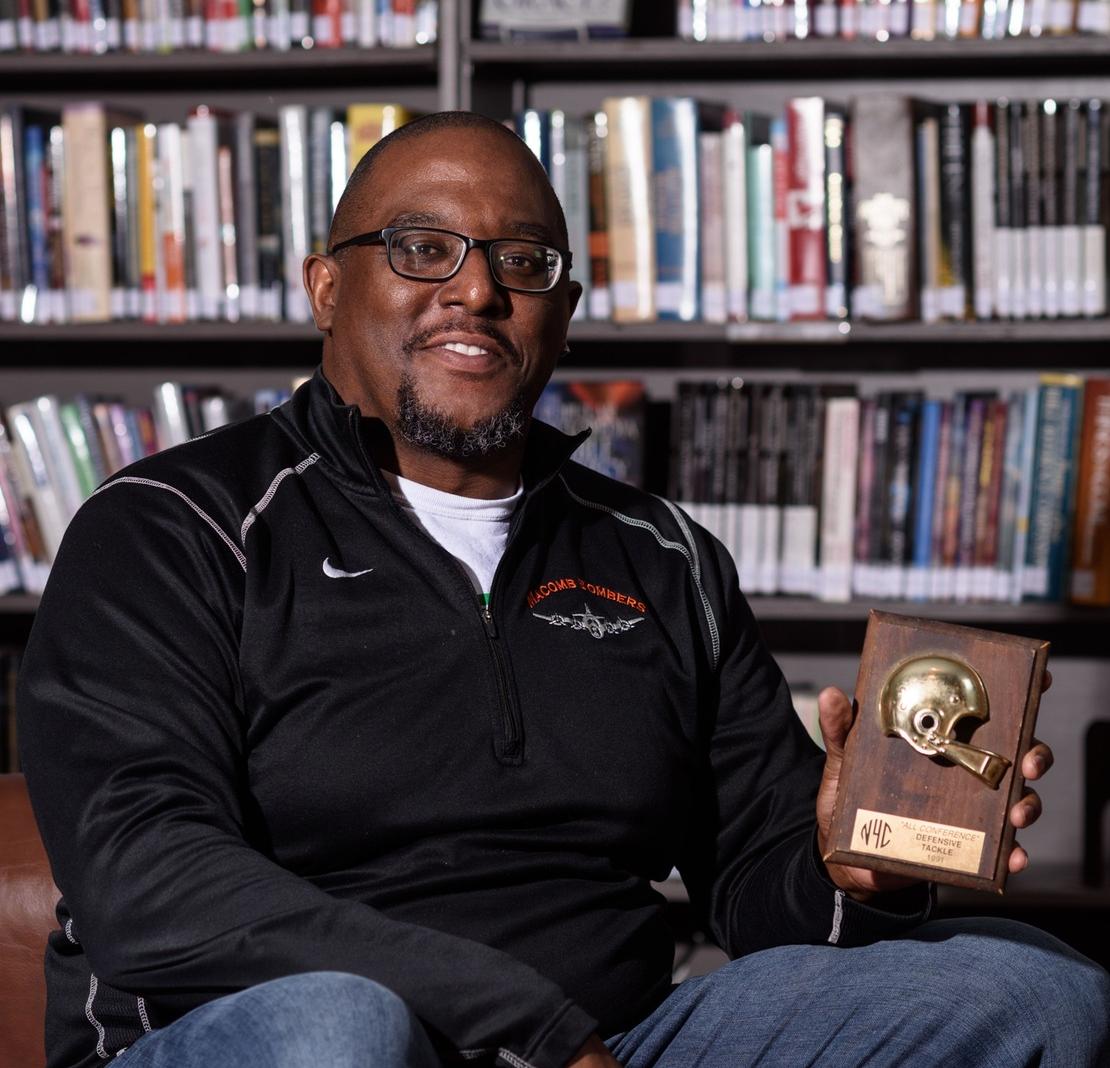 Harvie Herrington played football for Moraine Valley during the 1990 and 1991 seasons. The defensive end considered competing at another college until first-year Moraine Valley Head Coach Bill Barz persuaded Herrington to stay and fill a needed position. His freshman year, Herrington beat out a sophomore for a starting position. He received the college's Defensive Lineman of the Year after coming off an injury and playing only four games that same season. He was hungry for success after that and worked even harder. Sophomore year he was team captain, earning Defensive Player of the Year and Defensive Line of the Year at Moraine Valley as well as All-Conference Defensive Tackle in the North Central Community College Conference and All-Area Defensive Lineman. Following Moraine Valley, Herrington received seven collegiate scholarship offers, ultimately continuing his academics and football career at Western Illinois University. Later, he played briefly in the NFL for the Indianapolis Colts and Chicago Bears. He also played in the Arena Football League until he was 32. He then coached high school and semi-pro football. Today, Herrington is a youth motivational and leadership speaker, which includes talking to Moraine Valley athletes on several occasions.
Shane O'Donoghue was a guard on the Moraine Valley men's basketball team from 1998 to 2000. His freshman year, he led the team in scoring and assists, was named Most Valuable Player in the NJCAA Region IV tournament as well as Moraine Valley's MVP. He also was named to the All-Region, All-Conference and All-Region IV Tournament teams. "Shane the Shocker," a nickname from his head coach, helped that team go 27-11 overall and finish fourth in the NJCAA Division II championship — the Final Four. During O'Donoghue's sophomore year, he was named to the All-Tournament, All-Conference and All-Region teams. That year he also topped the college's records for best free throw percentage at 86.5% and ranked No. 2 for the most career assists with 509. After Moraine Valley, he continued playing ball at Assumption College, where he earned multiple honors before playing one season professionally in Austria. He was inducted posthumously.
Lisa Pollard ran cross country for Moraine Valley as a freshman for then coach John Faber, and was the only female on the team in 1989. Before college, she excelled in cross country and track at Oak Lawn Community High School, where she earned multiple All-State honors and was inducted in the school's Hall of Fame. At Moraine Valley, she was named NJCAA Region IV Runner of the Year, the only runner in the college's program to earn this honor, after winning the Region IV Championship race in 17:55. Pollard ran at the NJCAA championship 5K race in 18:19, placing 14th overall, the highest placement by any Moraine Valley runner at nationals. It also is still the college's 5K record. For her efforts, Pollard was named to the NJCAA All-American second team, the first cross country runner at Moraine Valley to receive such an honor. She is the first cross country runner in the Hall and was inducted posthumously.
"I'm thrilled to have inducted this very worthwhile class. We have such a strong history of Athletics here at Moraine Valley, and this event is a true testament to that. We were able to reminisce with inductees and their guests about our athletic history and relive many good memories," said Bill Finn, athletics director.